Learning experience is an essential factor to measure the success of an L&D initiative. Considering the current dynamic market, professional development and upskilling has become critical for learners and organizations alike. But organizations need to consider that employees upskill themselves better when they have a positive learning experience. 95% of the employees feel loyalty to an organization is positively impacted by good learning experiences, as highlighted in the LinkedIn Workplace Learning report.
Effective learning content and tech-enabled channels of content delivery are the two important pillars of effective corporate learning. In the wake of the Great Resignation and improved focus on the L&D industry, organizations need to realize that they benefit the most by bridging the gap between content and technology. 
How is tech improving the learner experience?
The quality of learning content and the choice of learning path deeply influence learner experience – and software technology plays a vital role in deciding both. Technology enables organizations to develop content that is relevant and customized to the learners and ensures that their delivery is the most effective.
In this fast-moving world, learners often don't have the time to indulge in courses that aren't useful for their learning goals. When confronted with new technologies, the first question every learner has is, "what is in it for them?"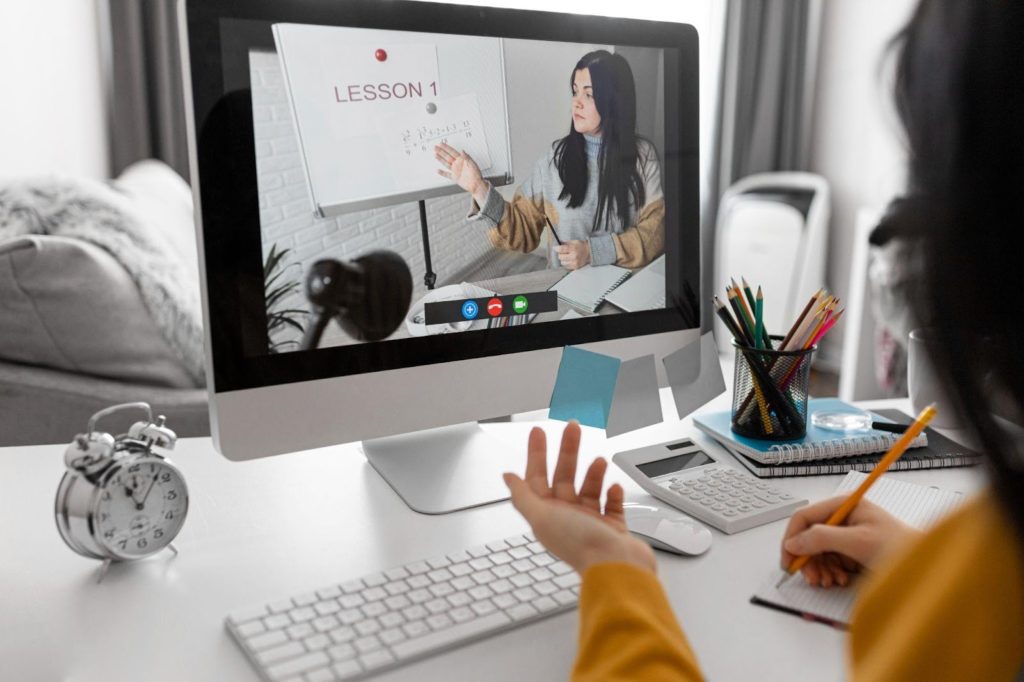 Here's how the synergy between learning content and technology has a positive impact on the learning outcomes: 
Enhanced knowledge retention
The interactive components of technology-empowered learning courses like quizzes, discussions, and AI-enabled feedback help make the learning content more engaging and improve their 'entertainment factor'. Interactive learning is one of the most popular methods of tech-enabled learning that empowers learners with better decision-making, improved creativity, high learner engagement, and knowledge retention. LMS platforms are essential tools in such scenarios and help simplify the learning process.
Interactive learning
The use of technology ensures that the learning process is not a one-man show. It allows organizations to deploy social and collaborative learning as well. The learning journey is made more collaborative and interactive through various channels like social media platforms, discussion groups, and online forums. Such practices allow learners to take advantage of the knowledge and experience of experts who design the learning strategy and courses. Group activities via the online discussion groups makes learning more interactive and easier for the learners.
Virtual experiences
Real-world practice is the best standard for learners to practice what they learn. It helps them weed out any misunderstandings and strengthen their skills. But practicing risky scenarios might not always be possible in real life; which is why virtual simulations are the best solutions to such challenges. Immersive technology like AR/VR headsets, simulation models, etc. makes it possible for organizations to provide a virtual environment for the leaders to experience real-world scenarios without any risks.
Precise and personalized learning
Technology allows organizations to deploy shorter and highly customized courses that satisfy the learners' requirements. Microlearning is one of the most efficient methods of offering focused and precise training content. It addresses a critical drawback of the traditional LMSs – mass-produced courses that don't target the learner's engagement, feedback, or experience. This level of precise content is delivered to each learner based on their learning paths and interest that enables them to pursue a field of their interest.
Instant feedback and reporting
Technology has ensured faster assessments and better reporting. Even though the modernized LMSs don't have a supervisor present, it is crucial to retain human interaction in the L&D process. Employees are reassured and encouraged to continue the training process with detailed feedback and assessment reporting. This detailed feedback helps make the knowledge application come alive. Manual analysis of feedback might be complicated, but the process is made possible with technology.
Conclusion
Corporate learning is becoming more precise and customized. Learners have a variety of content to choose from, and the organizations have multiple options of technologies from AR/VR to Gamification to deliver effective learning.
Adeptus Tech has a team of experts that can help you decide the best learning strategy for your organization. Talk to us today to learn more.